Affiliates


The life cycle of S.haematobium_Marwa
Schistosoma haematobium has a complex life cycle, which takes place in humans, and in an intermediate host of a freshwater snail. Schistosoma needs the right conditions to complete its life cycle, including both hosts (humans and snails) and freshwater. Humans become infected when they come into contact with the infective stage of the life cycle (the cercaria) in water, where the snail hosts are found.
1. Eggs are passed out with the urine. If this is into water (e.g. a pond or lake) the eggs will hatch into miracidia.
2. The miracidia enter a fresh water snail (Bulinis sp.).
3. In the snail the larvae go through further stages of development and multiplication.
4. The next stage of the schistosome development is cercaria, which are released from the snail.
5. If these come into contact with humans, e.g. when they are swimming, bathing or wading in the water, the cercariae can enter unbroken skin – often of the feet or ankles (shedding their tail as they do so).
6. Once inside a person, the larvae migrate through the blood system to the liver. In the veins of the liver, the schistosomes undergo further development, and mature into adults.
The adults leave the blood system of the liver to migrate again, finally ending up in blood vessels around the urinary bladder (and less often, other organs). Here eggs are released against the bladder wall. These eggs then penetrate into the inside of the bladder, where they are passed out with the urine – to begin the cycle again.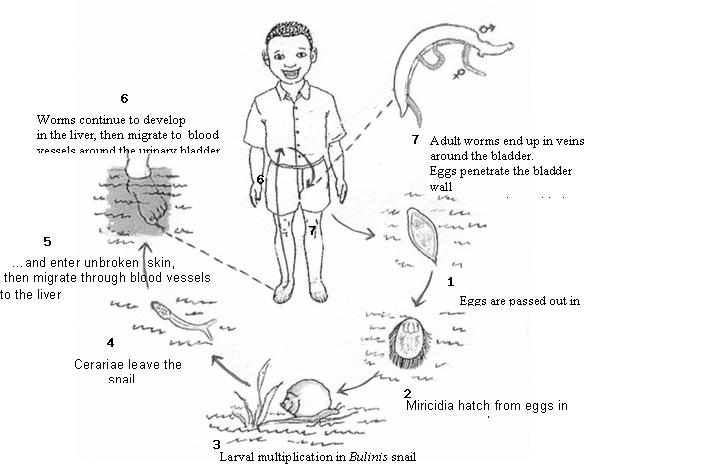 Posts

: 65


Join date

: 2008-11-12


Age

: 70


Location

: Ajman, UAE




---
Permissions in this forum:
You
cannot
reply to topics in this forum